Easy vegetarian pasta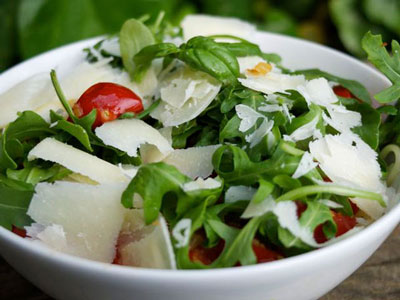 This is an easy pasta recipe that can be made quickly on a busy week night.
Pasta
Ingredients
1 table spoon of olive oil
500g pasta
12 cherry tomatoes, cut in halves
3 onions, minced
1 clove garlic, minced
100g pine nuts
rucola salad
basil leaves
parmesan cheese
black pepper
salt
green pesto (store bought or home made)
Instructions
In a saucepan cook the pine nuts until golden, toss them once in a while not to burn them.
Heat oil in a sauce pan with the minced onions and garlic and cook until lightly golden and fragrant. Add the tomatoes and cook until the tomatoes are tender.
Cook the pasta al dente. When the pasta is ready add couple of table spoons of green pesto, toss with the tomatoes, onion and garlic mixture. Add some salt and pepper to taste.
Garnish with rucola salad, basil leaves, pine nuts and permasan cheese.
Green pesto
Ingredients
60g basil leaves
60g pine nuts
1,5 dl olive oil
60g parmesan cheese
1 clove garlic, minced
juice of half a lemon
salt and pepper to taste
Instructions
Mix the pine nuts, parmesan cheese, minced garlic, fresh basil leaves and olive oil in a blender until smooth.
Add the lemon juice and salt and pepper to taste.