Playa del Carmen (Mexico)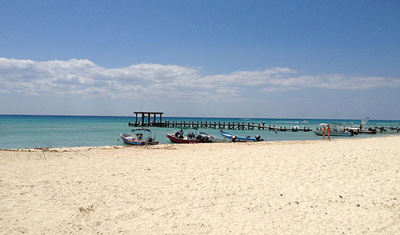 The weather has been horrible in Belgium lately, rainy and cold. Luckily, we soaked up the sun in Mexico in April. We were invited to a wedding of a good friend in Tulum. We stayed in Mexico for two weeks. It was our first real holidays since our baby arrived. The first week we stayed in Playa del Carmen, then we traveled souther to Tulum to attend the wedding.
We took a flight from Paris to Cancun with Air France. Travelling with a baby was quiet a challenge as she didn't want to sleep on the plane. Of course, when we arrived in Cancun, she fell asleep. Once in Cancun, we took the bus to Playa del Carmen, a 45 minute ride. We booked an apartment through airbnb in the gated community area, Playacar. All the the five star hotels are also situated in this area directly on the beach. The apartment was equipped with all facilities: kitchen, two bathrooms, two bedrooms, washing machine, television, DVD player and four pools on sight. It's the third time we found a place to stay through airbnb, the appartments were much cheaper and bigger than hotel rooms of the same price.
Downtown Playa and the beach was just 20 minutes walk from the apartment. The city center of Playa del Carmen is too touristic for my taste, the main street is full with shops selling Mexican souvenirs. The beach on the other hand is beautiful with its clear blue water and white sand. As we did or own cooking the first week, I can't really recommend places to eat. Here are some pictures from our first week.