Road trip California coast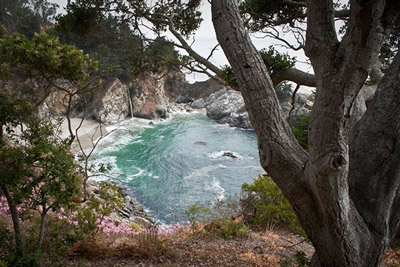 After 5 days in San Francisco, our road trip along the Pacific Coast begun. As, San Francisco and surrounding are the walhalla for everybody who is interested in IT, we had to stop in Cupertino (situated South of San Francisco) to stop by Google, Apple, Linked In,… It was nice to see the place where everything big is happening in that field!
After couple of hours, we finally reached route 1, first point of interest Monterey. The city is noted for its rich history of resident artists beginning in the late 1800s, and its historically famed fishery. Monterey is well-know for its Bay Aquarium. We didn't visit the aquarium due to a tight scedule, but it supposed to be one of the biggest aquariums in the world.
Near Monterey you can find the 17 mile drive. The 17 Mile Drive is a scenic road through Pacific Grove and Pebble Beach much of which hugs the Pacific coastline and passes famous golf courses and mansions.
On our way to Julia Pfeiffer Burns State Park we stopped at Café Kevah. The open-air patio offers exceptional views of the coast line, it's a must to stretch your legs and relax with a nice cup of tea! Julia Pfeiffer Burns State Park stretches Big Sur coastline into nearby 3,000-foot ridges. It features a 80-foot waterfall that drops from granite cliffs into the Pacific ocean. This magnificent place used to be the residence of Lathrop and Helen Hooper Brown, also called the Waterfall House. Unfortunately, only the terrace is all that remains now.
Halfway between San Francisco and Los Angeles Hearst Castle is situated. Hearst Castle or La Cuesta Encantada (the enchanted hill), belonged once to the famous newspaper magnate William Randolph Hearst. The castle was designed by the American architect Julia Morgan. Hearst Castle featured 56 bedrooms, 61 bathrooms, 19 sitting rooms, 127 acres (0.51 km2) of gardens, indoor and outdoor swimming pools, tennis courts, a movie theater, an airfield, and the world's largest private zoo. We participated in the 'Experience Tour', which is the main tour of the Castle. The tour includes a visit to Esplanade and the gardens, Neptune Pool and Roman Pool, 5 rooms of Casa Grande, and Casa del Sol, one of the guesthouses. Prices: Adult: $24.00, Child: $12.00. There are different tours for everybody's taste, but if you are in the neighborhood between March through May and September through December 30, I would recommend to do the 'Evening Tour'. Hearst Castle comes to life. Docents in period dress add life to the magnificent surroundings and take visitors back to the Castle's 1930's heyday. Prices: Adult: $30.00, Child: $15.00
Next stop on our road trip: Las Vegas, Death Valley and Grand Canyon!