Zumba Fitness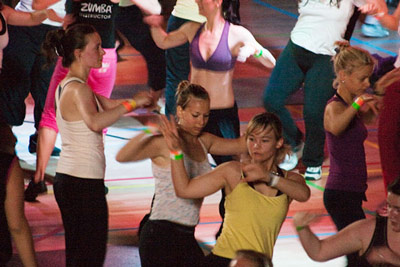 Zumba fitness, Ditch the workout, join the party!
Since I participated in the first Zumba fitness class in November 2008 during XXL Convention in the Sportoase in Leuven, I have been hooked. The enjoyment and the energy that the instructors, Ruth and Rosy were exhibiting is contagious. Eight months later I am attending Zumba classes twice (sometimes even three times) a week, and I am still excited to go every time.
Zumba combines resistance training with fast paced Latin American music like salsa, meringue, cumbia, samba, calypso, reggaeton and hiphop to create a fun and dynamic work out. The room is filled every time with laughter and participants enjoy themselves while working out! Zumba appeals to everyone regardless their age and shape. As I wiggle my hips, pump my arms and shake my booty to the music, I am able to let go of my worries and stresses.
I thought that the classes will stop during the summer, and I was a little bit sad that I will have to give up my favorite work out. My eyes lightened up when the instructor announced that they will continue to give classes till mid August. The summer classes take place from 6 July till 17 August 2009 in Leuven, it costs 50 euro.
I would recommend zumba to everyone!
For more info, please visit Zumba Leuven or the official Zumba website.